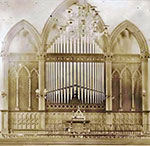 "Since the mid-1990s, when he was highly recommended to us by organist/organ technician/organ historian Barbara Owen, Stefan Maier has been the trusted source of maintenance of our 1886 tracker-action pipe organ, Op.155, by George S. Hutchings of Boston. The organ, at the Ashburnham Community Church in Ashburnham, Massachusetts. has two manuals and pedal board: The Swell keyboard has one 2-foot stop; one 2⅔-foot; two 4-foot, two 8-foot and two 16-foot stops. The Great keyboard has one 2-foot; one 2⅔ foot; one 4-foot; and three 8-foot stops. The pedal has a single 16-foot stop. Couplers link Swell to Great, Swell to Pedal, and Great to Pedal.
Stefan Maier's expertise was especially crucial, and deeply appreciated, when the sanctuary of the church was being repainted in 2002, including the wall behind the organ and the ceiling above it. Stefan removed all the pipes, storing them in order in the attic behind the organ loft, and reassembled the instrument when the painting was completed. This major operation was done promptly and competently.
Either Stefan or a trusted assistant has always been available, even on fairly short notice, to repair or replace any parts of the organ that failed, even just before a major holiday. He is a calm and good-natured person to work with, and his bills have always been most reasonable for the work done. We would not consider hiring anyone else to work on this treasured instrument."
Patricia H. Frederick, Music Director and Organist
Ashburnham Community Church
Ashburnham, MA
2.2.2021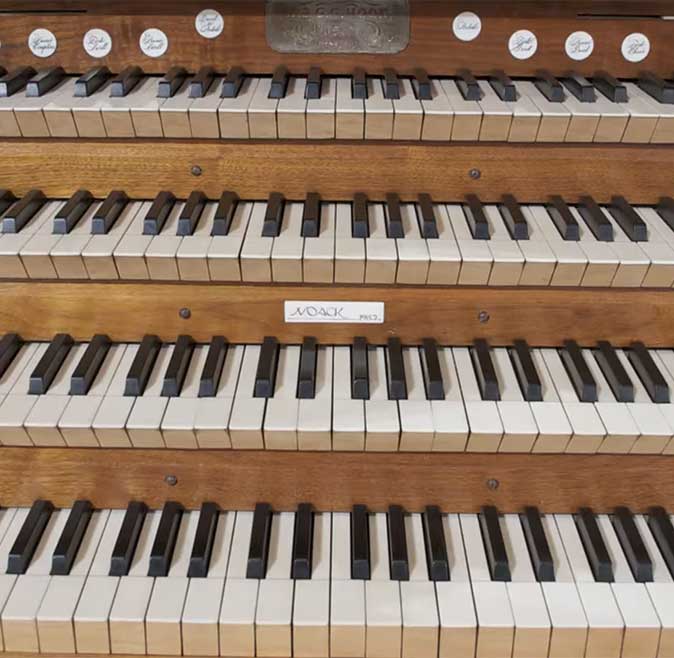 "The Hook "Worcester Organ" at Mechanics Hall in Worcester has been under the caring hands of Stefan Maier since 1995. This historic 155+ year-old gem demands the utmost in preservation skills as well as engineering prowess to keep it in perfect maintenance for today as well as preserve it for generations to come.
Stefan and his crew are just the right fit with their expertise in restorative organ building and historic construction techniques. He balances priorities and budgets to deliver just the right schedule for this wonderful instrument's thousands of fragile parts. He knows just how the seasonal changes (especially humidity) will affect the original trackers and delicate reed voicing in order to adjust everything for optimal working order for our demanding concert schedule and recording sessions.
I've been amazed at his knowledge of the fine details of Hook organ building such as wood grain, reed pipe construction, and wind pressure considerations. He not only does the tuning and minor adjustments multiple times each year, but over the last few decades, had designed and carried out a multi-phase massive restoration project for all of the organ's divisions. Those caring hands have positioned our dear lady to sing brightly for years forth."
Will Sherwood, AAGO, ChM
Principal Organist, Mechanics Hall
Worcester, MA
2.12.2021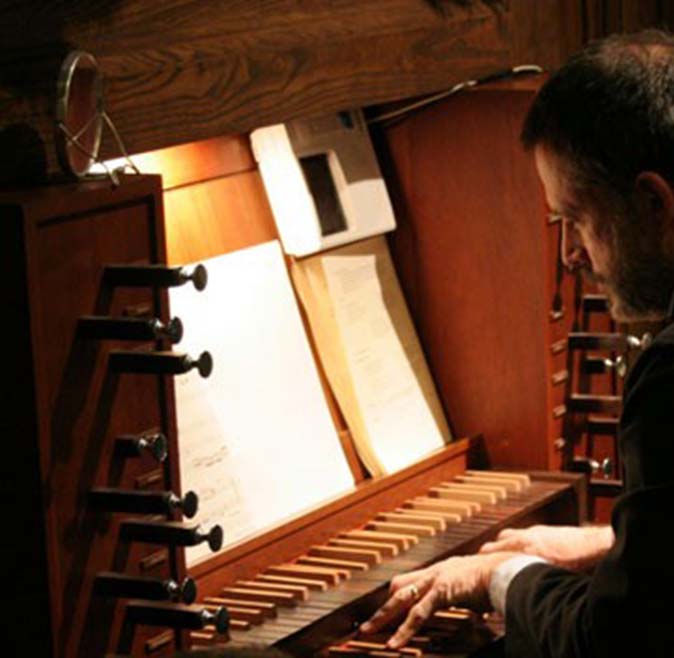 "I have been the organist at Grace Episcopal Church in Amherst for over 20 years. We have a 20-stop, 2-manual Hedgebeth tracker organ.
During my first 10 years at this church, a different, well-known organ service company took. care of the instrument. The contrast between the service provided by this company and the service which Stefan and his assistants have given us during these past 10 years has been substantial. Stefan's tuning has been more accurate, more economical, and done with a more pleasant attitude.
One larger project which Stefan tackled successfully was to replace all the linkage between the pedals and the pedal pipes. This is the most remote (from the console) section of the organ, and involves five or six right-angle turns in the run between the two areas. Our previous organ caretaker had suggested installing electric connections between the two locations, to place the aging/problematic original work. Stefan, possibly because he possesses superior woodworking/construction skills, was able to provide a reliable and economical tracker version.
Thanks, Stefan and company!"
Dick Damon, Organist
Grace Episcopal Church
Amherst, MA
2.2.2021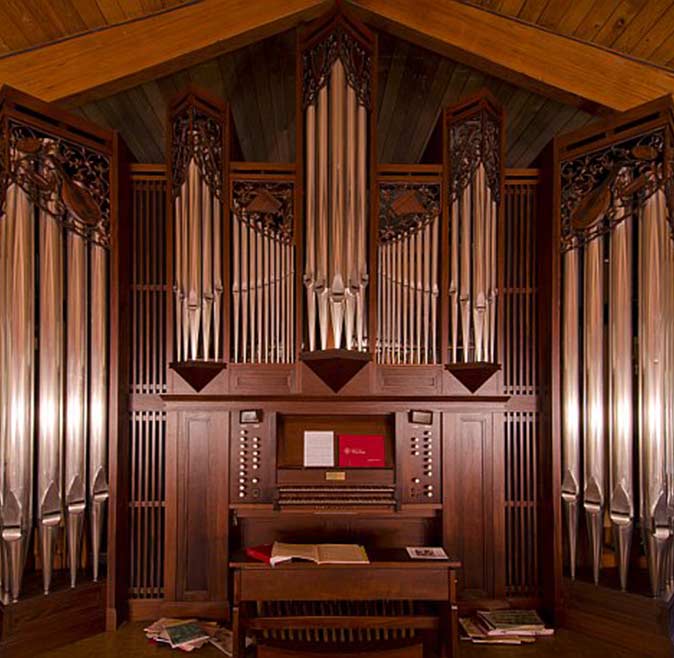 "While serving as Minister of Music at St. John Lutheran Church, Sudbury, MA, we installed a J. W. Walker Pipe Organ, Brandon, Suffolk, England in 1988. Through the years that followed, maintenance was done solely by Stefan and his associates. It was professional, efficient, and I could always rely on his wisdom; his work is of the highest caliber.
Stefan is truly an expert on all facets of tracker organs! The St. John organ continues to be a wonderful instrument and is appreciated by all those who make music on it."
Lois Z. Toeppner, MM
Deacon, ELCA
Organist 1987-2016, St. John Lutheran
Sudbury, MA
2.1.2021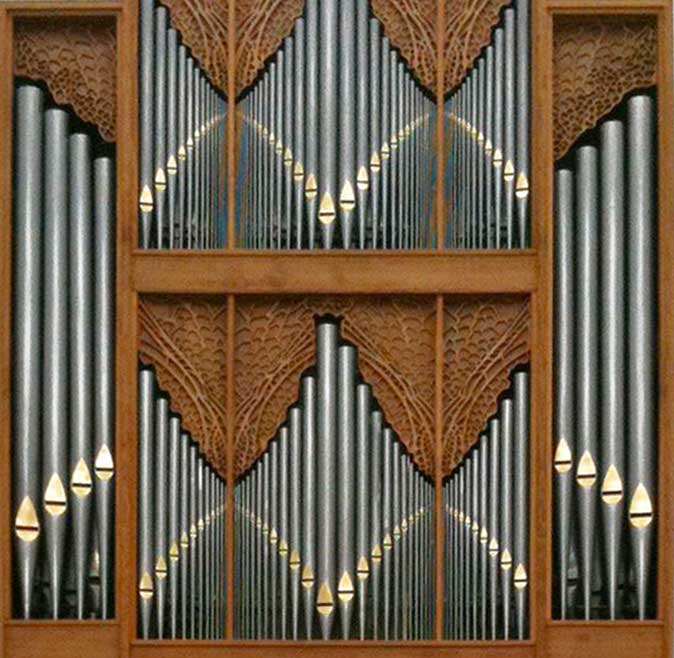 Stefan Maier and his crew are true artisans and organ curators of the highest standards.  He has maintained and modified Brombaugh Opus 21 for decades. 
We at St. Mark's Chapel are fortunate to have enlisted Stefan as we embarked on a series of improvements to this exceptional instrument.  Stefan worked closely and respectfully with John Brombaugh on each improvement.  Stefan also worked patiently with our church as we justified each penny spent on necessary improvements that required detailed explanation. 
Stefan conveys a respect and appreciation for this instrument that bring pride to our congregation.  His workmanship meets the highest standards with accolades from John Brombaugh.  Our congregation holds Stefan and his team in the highest regard.  Documentation and correspondence  over the years with John Brombaugh mentions Stefan as the most qualified and trusted of organ curators to work on Opus 21.
Charles Houmard, Organist/Choir Director
St. Mark's Episcopal Chapel at University of Connecticut
Storrs, CT
2.22.2021


"Stefan created a custom organ bench to match our Aeolian-Skinner 4M console at First Unitarian, Worcester. That may sound like not much, but oh the combination of features he was able to include: it has a hydraulic up/down lift; it has a "flip-top" seat to allow the organist to stand to direct a cappella anthems; it had an indented profile to allow for easy ergonomics for page turners yet still wide enough for organ duets.
Stefan was easy to communicate with, and accepted without hesitancy the challenges of this unusual set of features. The quality of workmanship exceeds any other I've seen on in my 50 years on benches.  It is now about a decade since installation, and is still as strong and comfortable as it was on day one. Standing or sitting, my hat is off to Stefan!
Will Sherwood, AAGO, ChM
First Unitarian Church, Worcester, MA
2.12.2021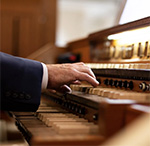 Stefan Maier has been servicing our 1967 Rieger for over 25 years. In that time he has kept it sound mechanically and has stabilized the tuning as the organ is spread over a lot of space, and divisions are at different heights. Stefan also brought back second ranks of Great and The Rückpositiv division which had previously been disconnected, as the winding posed problems. Stefan stuck with it where others had given up. He got them working and those  changes made a huge improvement tonally,  supporting the strong upper work on these divisions. In 2011 Tracker Organs built a new console, combination action and playing action. The organ now sounds better than ever and has a console with much more capability and satisfaction. We are fortunate to have Tracker Organs as our caretaker.
David Carrier
Wellesley Village Church
Wellesley, MA
3.2.2021